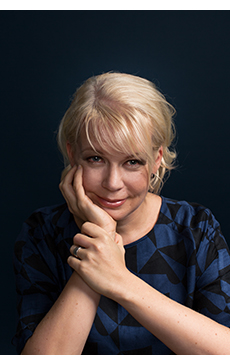 Elina Hirvonen
Elina Hirvonen (b. 1975) is a Helsinki-based author, journalist and documentary filmmaker. Her first novel, When I Forgot (2005) was a Finlandia Fiction Award nominee and has been translated into nine languages. The English translation published by Portobello Books in the UK and by Tin House in the USA was praised both in The New York Times and in The Financial Times on publication. Farthest from Death (2010), her second novel, was born in Lusaka, Zambia, where Hirvonen and her husband spent two years.
Hirvonen's third novel When Time Runs Out (2015) was published to huge critical acclaim in Finland. In 2017 it was chosen "The Most Important Book of the Year 2015" in a project called "Finland of Books" by the Finnish Broadcasting Company (YLE) that introduces 101 titles from the 100 years of Finnish independency crystallizing the atmosphere of the particular year each of them was published in. The English translation will be published by Bonnier Publishing UK in October 2017.
Elina Hirvonen is also an internationally known documentary filmmaker. Her first long documentary film Paradise—Three Journals in this World (2007), which deals with African emigration to Europe, has been recognized with several awards. In January 2017, her new critical documentary film Boiling Point that demands dialogue between human beings instead of hate speech and violence, premiered in the opening gala of the international DocPoint Festival in Helsinki and was screened also abroad, e.g. at the Open Books Festival in Cape Town.
Works
When Time Runs Out (Kun aika loppuu, WSOY 2015)
Farthest from Death (Kauimpana kuolemasta, Avain 2010)
When I Forgot (Että hän muistaisi saman, Avain 2005)
Awards and nominations
2017 Shortlisted as one of Finland's Top Artists representing the Future of the Culture
2016 The Most Important Book of the Year 2015 (YLE)
2016 Young Aleksis Award
2016 Shortlisted for the Finnish Literary Export Prize
2010 Kalevi Jäntti Prize
2005 Shortlisted for Finlandia Fiction Award