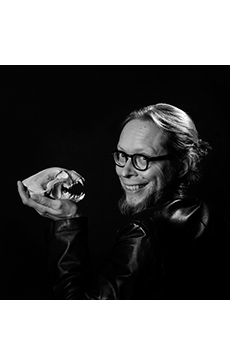 Mikko-Pekka Heikkinen
Mikko-Pekka Heikkinen (b. 1974) is a Helsinki-based journalist who writes serious, humorous prose about oddball residents of the hinterlands facing the pressures of the modern world – and how they pressure the modern world right back.
His first novel, Invasion of the Snowmobiles (2010), was a genuine breakthrough whose incisive humour immediately won over critics and readers alike. A play based on the book premiered in March 2014. Also the following novel, Bullheaded (2014), became an admired bestseller, and a stage play based on the book will premiere in Autumn 2016.
A set of Heikkinen's short stories from The Destruction of the Liquor Store in Nuorgam (2010) will be published in Best European Fiction 2017, an anthology by Dalkey Archive Press (USA).
Reindeer Mafia is Heikkinen's fourth work. The film rights to the book have been optioned prior to publication.
Works
Reindeer Mafia (Poromafia, novel, Johnny Kniga, 2016)
Bullheaded (Jääräpää, novel,  Johnny Kniga 2014)
Invasion of the Snowmobiles (Terveiset Kutturasta, novel, Johnny Kniga 2012)
The Destruction of the Liquor Store in Nuorgam (Nuorgamin Alkon tuho, short stories, Johnny Kniga 2010)