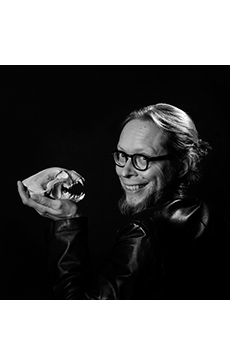 Mikko-Pekka Heikkinen
Mikko-Pekka Heikkinen (b. 1974) hails from Kainuu, north-eastern Finland, and is a feature journalist at the Helsingin Sanomat newspaper. Heikkinen writes seriously humorous prose about oddball residents of the hinterlands facing the pressures of the modern world – and how they pressure the modern world back. He started writing fiction in Lapland in 2008 during an internet cut – and within hours had the idea of his first novel. Mikko-Pekka owned reindeer when he was young, and is constantly longing back to the country. That's why he spends his leisure time skiing, camping and sailing. Heikkinen's list of literary heroes reads: Arto Paasilinna and Ice Cube.
Heikkinen's debut novel, Invasion of the Snowmobiles (2010), was a genuine breakthrough. The incisive humour of the novel immediately won over critics and readers alike.  Invasion of the Snowmobiles was turned into a stage play in 2014, and there was no denying that Heikkinen was destined to become a great storyteller in the vein of Arto Paasilinna. Heikkinen's second novel Bullheaded (2014) also became a bestseller which premiered on stage in 2016. Heikkinen proved his genious with Reindeer Mafia (2016), taking a classic mafia story and transplanting it to Lapland – with its herds of reindeer, vodka and with a drop of reindeer blood drunk at feasts. Heikkinen added a bit of social criticism to his novel, bringing it to another new level – the film rights to Reindeer Mafia were optioned prior to publication. Heikkinen is currently writing his fourth novel, due out in autumn 2017.
Heikkinen's work has been translated into English and now also into Czech. A set of short stories from The Destruction of the Liquor Store in Nuorgam (2010) have been published in Best European Fiction 2017, an anthology by Dalkey Archive Press (USA); and the Czech rights of Reindeer Mafia have been sold to Argo.
Works
Reindeer Mafia (Poromafia, novel, Johnny Kniga, 2016)
Bullheaded (Jääräpää, novel,  Johnny Kniga 2014)
Invasion of the Snowmobiles (Terveiset Kutturasta, novel, Johnny Kniga 2012)
The Destruction of the Liquor Store in Nuorgam (Nuorgamin Alkon tuho, short stories, Johnny Kniga 2010)