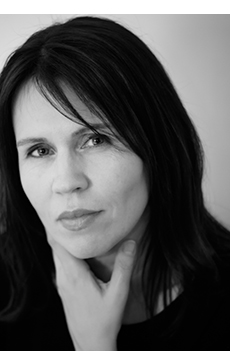 Tiina Laitila Kälvemark
Stockholm-based journalist and author Tiina Laitila Kälvemark (b. 1970) is from north-central Finland. Her debut work, the short story collection The Lost Shore (2012) deals with sensations of alienation and detachment, in particular among Finnish emigrants to Sweden. The work was a Runeberg Prize nominee and one of the stories, "The Hare", won the Umeå prize in Sweden's largest short-story competition in 2011.
Laitila Kälvemark's short stories have also been published in anthologies and journals in English and German.
Awards and nominations
2017 Shortlisted for Bothnia Prize
2016 Shortlisted for Finland's Candidate for the European Union Prize for Literature
2015 Shortlisted for the Tiiliskivi Prize
2015 Shortlisted for the Toisinkoinen Award
2013 Kaisa Vilhuinen Literature Prize (Sweden)
2013 Shortlisted for the Runeberg Prize
Works
The Seventh Spring (Seitsemäs kevät, WSOY 2017)
Of Stones and Silence (Karkulahti, novel, WSOY 2015)
The Lost Shore (Kadonnut ranta, short stories, WSOY 2012)