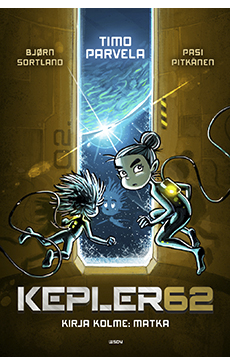 Publication date
2016
Publisher
WSOY
Format info
approx. 140 pages 4-color illustrations , 10+
Kepler62 Book 3: Voyage
Kepler62 kirja 3: Matka
KEPLER62 is now reaching warp speed! Voyage is the third volume in a six-book epic series.
"It's time. Be a credit to the human race." Old General Livingstone bids farewell to the kids who are about to blast off from ravaged Earth into deep space in search of new worlds that could support life. A shuttle takes the young voyagers to a launch pad, where three spacecraft await them: the Niña, the Pinta and the Santa María. Ari is looking after his little brother Joni and suspects
they have not been told everything about the tasks they will have to perform. A long voyage into the unknown stretches out before them.
Finnish author Timo Parvela and Norway's Bjørn Sortland have worked with Finnish illustrator Pasi Pitkänen to create a gripping tale in which friendship is put to the test in outer space. The books are being published simultaneously in Finland and Norway. The first book was shortlisted for the Arvid Lydecken Prize for the best children's book of 2015 in Finland.
The final two parts in this space adventure series are to be published in 2017.