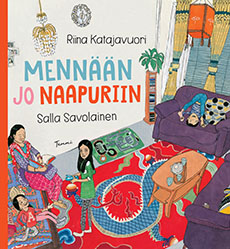 Publication date
2017
Publisher
Tammi Publishers
Format info
56 pages
Let's Visit the Neighbours
Mennään jo naapuriin
Nominated for the Runeberg Junior Award!
The Book of the Year 2017 by YLE!
 
Let's Visit the Neighbours is a non-fictional picture book about multicultural families living in the greater Helsinki area. These are families whose roots are in another culture and country, either via one parent or two, or the whole family. The book is a recording of the author Riina Katajavuori and illustrator Salla Savolainen's visits to these homes together with Riina's 8-year-old daughter Vellamo. This heart-warming picture book takes a peek at the everyday life of the families, sharing their story, customs and home with the readers. The book is an independent sequel to the title Let's Go Home (Mennään jo kotiin, Tammi Publishers 2007).
Awards and nominations
2017 Nominated for the Runeberg Junior Prize (The winner will be announced on the birthday of Finland's national poet Johan Ludvig Runeberg, 5th February 2018.)
2017 The Book of Year 2017 by YLE
(The Finnish Broadcasting Company YLE's selected books that celebrate the 100 years of Finnish independence. This remarkable selection of literature, containing one title per each year of our independence at https://yle.fi/aihe/kirjojen-suomi/101-kirjaa)
"It was selected as the book of 2017 as it is so important to look towards the future. The new Finland of the future is being built by the children and the youth of today. The global changes also alter Finland and our country is enriched by the multitude of cultures. Tolerance and the building the new multi-cultural Finland is our biggest job at hand", emphasises Seppo Puttonen of the YLE's Finland of Books –program.
Notable
YLE broadcasts the story of Vellamo and the children from Let's Visit the Neighbours in a radio program in December 2017. The two-part program centres around the discussions between Vellamo and the children of multicultural families. The topics of the children's discussion include war, home country, importance of parents, first snow, loneliness, hobbies, religion…