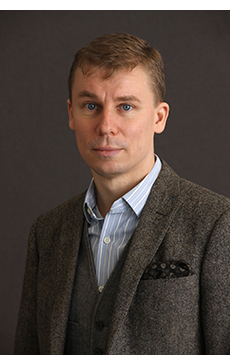 Oula Silvennoinen
Oula Silvennoinen (b. 1970) is a docent of European history conducting postdoctoral research at the University of Helsinki. His areas of specialization are the history of the holocaust, genocide, European fascism and radical nationalism.
In 2004–2008, Silvennoinen participated in a research initiative of the Finnish National Archives that explored, among other things, the deaths of POWs at Finnish POW camps and the extradition of individuals to Germany and the Soviet Union. His interest in the topic deepened during the project, and 2008 saw the publication of his dissertation: Secret Brothers-in-Arms: Collaboration between the Security Police of Finland and Germany, 1933-1944, that was later published in translation in Germany and Estonia as well.
Silvennoinen has also written works among others about lumber baron Gösta Serlachius (2012) and the contradictory war hero Lauri Törni aka Larry Thorne (2013; co-authored with Juha Pohjonen).
Even though it's easy for a researcher to get lost in the archives, Silvennoinen says he enjoys writing: "It's particularly rewarding at the final stages, when I know everything essential is there and I can just focus on finalizing and polishing the text."
Selection of works
The Unknown Larry Thorne (Tuntematon Lauri Törni; with Juha Pohjonen, Otava, 2013)
Paper Heart: The Life of Gösta Serlachius (Paperisydän: Gösta Serlachiuksen elämä, Siltala, 2012)
Secret Brothers-in-Arms: Collaboration between the Security Police of Finland and Germany, 1933-1944 (Salaiset aseveljet: Suomen ja Saksan turvallisuuspoliisiyhteistyö 1933–1944, Otava 2008)
– also published in German by WBG – Wissenverbindet, 2010, and in Estonian by Olion, 2009