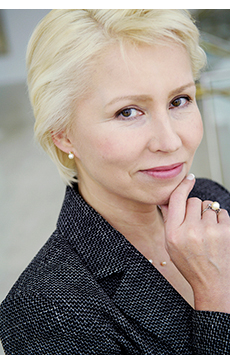 Raisa Cacciatore
Raisa Cacciatore (b. 1956) is a physician and child psychiatrist who, in her well-received books, has encouraged people to approach the issues of puberty, growing independent, and sexuality with an open mind. Her books provide young people with information on things that they can find difficult to share with adults while providing the parents with perspectives that support the growth of their children.
In her straightforward, warm and humorous style, Cacciatore speaks to boys and girls about changes in their body during puberty and emphasises the meaning of love as the basis of relationships. Parents are encouraged to find a common natural language with their children to discuss various development stages. Instead of role models advocated by the media and porn industry, a children grow up on terms of their own body and learn to respect their and others' bodily integrity.
Cacciatore has participated in the creation of a multi-volume "babies' library" that has been distributed to all new parents for several years. The colourful books, which support the development of the newborn, comprise nursery rhymes, songs and physical exercises. These contribute simultaneously to the development of the baby's senses and interaction skills.
Selection of works
An Adult Woman and Sex (Aikuisen naisen seksi, WSOY 2011 – with Erja Korteniemi-Poikela)
Step by Step. The Development of Sexuality. A Guide for Parents (Portaita pitkin. Lapsen ja nuoren seksuaalisuuden kehittyminen. Opas vanhemmille, WSOY 2010 – with Erja Korteniemi-Poikela)
How to Support the Child's Self-esteem. A Guide for Parents (Miten tuen lapsen ja nuoren itsetuntoa. Opas vanhemmille, WSOY 2009 – with Erja Korteniemi-Poikela and Maarit Huovinen)
– published also in Estonian (Varrak)
Hey Babe, I'm So Hot! The Youth's Own Book about Sex (Hei beibi, mä oon tulta! Nuoren oma seksikirja, WSOY 2008 – with Pia Brandt and Erja Korteniemi-Poikela)
– published also in Estonian (Menu)
Sitting in a Tree, K-I-S-S-I-N-G. The Challenges in Growing up. A Guide for Parents  (Huomenna pannaan pussauskoppiin. Eväitä tyttönä ja poikana kasvamisen haasteisiin syntymästä murrosikään. Opas vanhemmille, WSOY 2007)
– published also in Estonian (Varrak)