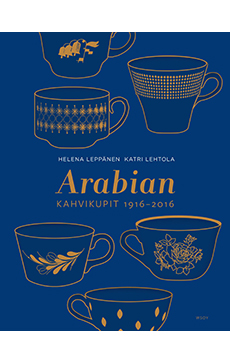 Publication date
2016
Publisher
WSOY
Format info
264 pages
Arabia's Coffee Cups 1916–2016
Arabian kahvikupit 1916-2016
A century of Finnish design. Over 700 cups and decorations from Finnish ceramics house Arabia
Coffee cups are an important part of the coffee break, and we tend to talk of them with familiar names: the thin porcelain of Singapore is ideal for special occasions, Myrna makes us recall our grandmothers, the screeching surface of Ruska gets us in the retro mood and Kilta and Teema connects several generations with the timelessness of the design.
This magnificent volume presents coffee cups from the Finnish ceramics house Arabia in an unprecedented scale. More than 700 cups and decorations are included, ranging from 1916 to 2016. The book gives us insight in what are the cups loved by Finns, how the change in the coffee culture has affected the designs of the cups, how the fashion of floral designs has changed and what are the special cups Arabia has produced during over the times.
The story of Arabia and the independence of Finland go hand in hand.  The cups portray the family history of Finns, and the history of Finland at the same time.
Reading material
Finnish edition