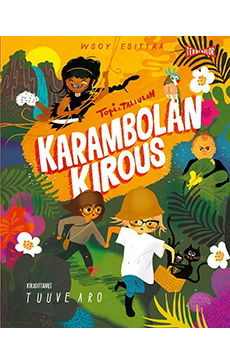 Illustrator(s)
Sanna Mander
Publication date
2013
Publisher
WSOY
Format info
144 pages Size: 197 mm x 155 mm
City Boy and the Jungle
Topi ja Tallulah: Karambolan kirous
A lively jungle adventure for the entire family!
A delightfully enjoyable adventure in which Topi steps through the cinema screen and into the rainforest to rescue his heroine, the jungle girl Tallulah.
"…one of the most refreshing and high-spirited children's stories published this year."- Hämeen Sanomat newspaper on Jungle Girl and the City.
In the first book in the series, Tallulah, heroine of the silver screen, brought colour and speed to the concrete jungle of the greater metropolitan area of Korso. In the second story about Topi and Tallulah, it is Topi's turn to drop into the Amazon rainforest on a visit. Collapsing hanging bridges, daunting Carambolan waterfalls and the Oh-No tribe, known for its constant exclamations of complaint, become mere trifles, as our party wrestles with the riddle of the Ruby of the Purple Rose.
City Boy and the Jungle will captivate both boys and girls with its blend of Pippi Longstocking energy, Indiana Jones suspense and Tarzan exoticism.
Tuuve Aro is a writer and film critic living in Helsinki. She has published two novels as well as several collections of short stories, of which The Sign and Other Stories was awared the Kalevi Jäntti prize. Her work has been published in German, in English, and in Bengali.
The much-recognized graphic designer Sanna Mander is in her natural element visualising Aro's anarchistic tale.
Reading material
Finnish edition
English synopsis
English sample translation (chapter 7)