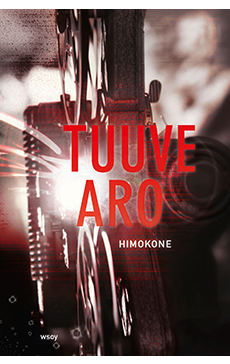 Publication date
2012
Publisher
WSOY
Format info
200 pages
Desire Machine
Himokone
  Can you resist the Desire Machine?
Stories in Tuuve Aro's short story collection Desire Machine have borrowed their titles from films – Vertigo, Alien, and Invasion of the Body Snatchers, for example. To Aro, the film projector is a desire machine: it doesn't give anything, it only shows.
Events in her stories do not correspond with those in the movies, but the peculiar atmosphere of her stories emanates from films. In the story "Invasion of the Body Snatchers" the human-eating monsters are babies, seen from the viewpoint of a single, childless woman. The story "Jaws" describes a love-thirsty woman who accidentally destroys the objects of her affection.
Aro is a master in making her stories take sudden, strange turns. Dark comedy and highly original characters are signature features of her acclaimed work.
Desire Machine is her fourth collection of short stories.
Reading material
Finnish edition
English sample
German sample
An interview and a sample in English available in Books from Finland online