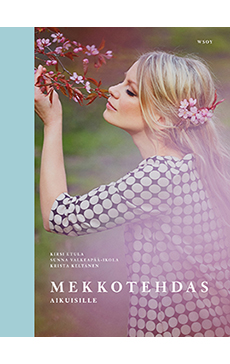 Kirsi Etula
Krista Keltanen
Sunna Valkeapää-Ikola
Publication date
2015
Publisher
WSOY
Format info
136 pages
Dress Factory for Grown-Ups
Mekkotehdas aikuisille
Why not sew yourself a dress or several! This book includes patterns for ten wonderful dresses.
Dress Factory for Grown-ups is a handicrafts and pattern book for successful sewing moments. It continues on the path of the immensely popular children's Dress Factory (rights sold to Estonia, Germany and Korea), but this time the dresses are designed for adults, and come in a range of women's sizes.
This sewing book provides stunning outfits for both casual and formal events. The clear designs in the patterns accommodate many tastes—from easy summer dresses to more demanding creations. The book contains patterns for ten women's dresses (sizes 34-46/6-18/S-XL) and one pattern for a girls' dress. The book also includes ideas and instructions on customising patterns, tips for the more challenging tasks and advice on fabrics and materials.
The book also incorporates instructions for making a make-up bag, a beach tote, scarf with tassels and wrist warmers.
Rights sold
Norwegian (Gyldendal)
Reading material
Finnish edition
Norwegian edition
Praise for the work
"It gives you a true aesthetic pleasure to leaf through Dress Factory for Grown-ups. The book contains a wealth of beautiful ideas and dress patterns for women who enjoy a little bit of romanticism and some bohemian girlishness." – Niittylän lapset
"I really enjoy the Dress Factory style and feeling. Sunna and Kirsi together with photographer Krista take you to a fairytale created for people who love creating beautiful dresses, host cute little parties, walk in the woods and by the seaside… The book is not just about the patterns to make the dresses – it is the feeling you get." – Krentupatterns
"Dress Factory for Grown-ups is a wonderful title, you enjoy browsing the book even if you are not going to sew anything. Krista Keltanen's fairy tale like  photographs take the reader for an atmoshperic journey through Finland. The photos are stunning and make the reader crave for dresses. The photos take you to enjoy the nightless nights in Lapland and let you look into some beautiful homes." – ET blogit / Reijan räsymatto