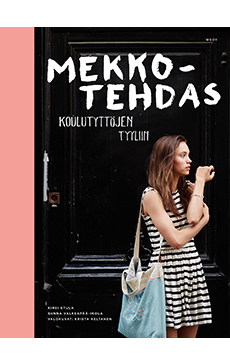 Kirsi Etula
Krista Keltanen
Sunna Valkeapää-Ikola
Publication date
2016
Publisher
WSOY
Format info
140 pages, 215 x 280 mm
Dress Factory – Style for Girls
Mekkotehdas koulutyttöjen tyyliin
It's the third sewing book from this popular trio! Now they've come up with a complete wardrobe for school-aged kids – without scrimping on style.
Dress Factory – Style for Girls is packed with patterns and sewing instructions to make fashions for an important group: style-conscious girls and teens who've gone through summer growth spurts. There are designs for lots of different tastes and occasions, for European sizes 128–170 to fit kids from Year 1 up to secondary school.
The styles cover the full calendar year, so there's no need for practical school clothes or even winter gear to be dull. This book contains 35 sewing projects, ranging from easy to challenging, for skilled sewers, group sewing sessions or for young people to try things out on their own. It's got casual pieces to wear at home, stylish training gear, lovely ensembles and even something nice for your own room!
Like the previous creative collections in the Dress Factory series, this book features sure-fire styles from Sunna Valkeapää-Ikola and Kirsi Etula. Krista Keltanen's brilliant photos glow with youthful joy and delight, featuring young people trying out their own wings and finding their own style.
Publishing rights to the Dress Factory series have been sold to Germany, Estonia, Norway and South Korea.