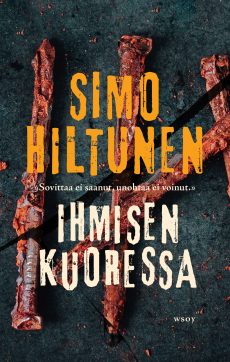 Publication date
September 2018
Publisher
WSOY
Format info
420 pages
Freefall
Ihmisen kuoressa
Journalist Lauri Kivi returns in a taut standalone thriller that takes readers to dizzying heights and the dark depths of the human psyche with Hiltunen's inimitable storytelling.
Journalist Lauri Kivi has much to be grateful for. A successful career reporting on serious crime, he has finally come to terms with his own difficult childhood and recently got to know his grown-up daughter, Ava, a promising young singer.
But dark clouds gather on the horizon. Researching a piece on unsolved disappearances – including that of one of Ava's predecessors, Amanda – Kivi finds himself unearthing facts of Amanda's disappearance that will threaten not only himself but also Ava. Will he be able to save both Ava and himself, before it's too late?
Simo Hiltunen (b. 1977) is a journalist and visual producer from northern Finland. His debut In Sheep's Clothing was published in 2015 to great acclaim.
Reading material
English sample ca. 40 pp.
Synopsis
Letter from the Author
Finnish edition
Praise for the Work
"Freefall rises above the standard thriller with its multi-layeredness. Linked to the Scandinavian thriller tradition with its social awareness, the novel adds a psychological layer with the burden of guilt that hasn't been redeemed. Hiltunen is virtuosic in his astonishing use of vocabulary, even in sensitive passages. The linguistic fireworks and the unique style of the author do not follow the straightforward pattern of a thriller, but require the reader to concentrate on the narrative itself. (…) the solid theme gathers the crisscrossing human relations, the causes and the consequences, and parallel plotlines into a coherent, unified whole." – Lapin Kansa newspaper