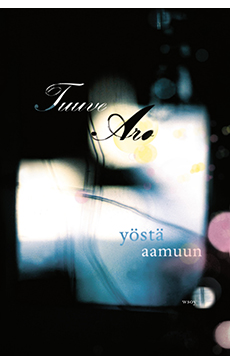 Publication date
2009
Publisher
WSOY
Format info
231 pages
From Night Till Morning
Yöstä aamuun
  Young woman's Odyssey set in wintry Helsinki
The nightmarish story of Saara begins with a puzzling scene: she steps out of the ladies' room in her favourite bar, Corona, only to find out her boyfriend Mikael has disappeared. Instead there is a red-haired man with two glasses of wine in his hands waiting for her, but Saara cannot recognise him as Mikael anymore. This marks the last straw to the man who leaves her standing there alone.
Later at home Saara realises Mikael has left for good, leaving his light blue shorts and guitar behind, not answering his mobile either. Where has he gone to? Why did he leave?
From Night till Morning is a young woman's Odyssey set in wintry Helsinki, a sparkling novel with absurd humour and frozen hearts.
Reading material
Finnish edition
English sample