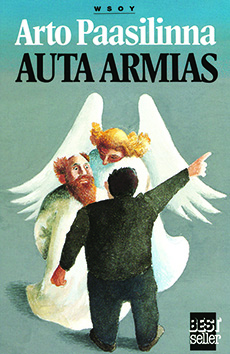 Publication date
1989
Publisher
WSOY
Format info
254 pages
God Almighty
Auta armias
An earthy and humorous tale with echoes of Giovanni Guareschi's Father Camillo series.
Birger Ryynänen is a crane driver in Helsinki. He's just come out the other side of a failed marriage and a painful divorce—something his child support payments won't let him forget. Ryynänen has often pondered life's deeper questions. He's certainly not religious, but he does have a tendency to chat to God as he spends time working at the top of a crane. But don't worry, he's critical when he needs to be!
What Ryynänen doesn't know is that God is stressed out and in need of a sabbatical. In fact, God has asked Saint Peter and the Archangel Gabriel to find a suitable stand-in. Enter… Ryynänen! When Saint Peter flutters down from Heaven and lands on the top of his crane, Ryynänen can't quite believe it. And when Saint Peter makes an unbelievable proposal, Ryynänen is forced to step up to the challenge.
Arto Paasilinna (1942-2018) is the most renowned contemporary Finnish author, having published 35 novels and countless other works during his lifetime. In Finland, he has been one of the most popular authors since the 1970s. His most famous books include The Year of the Hare, The Howling Miller, A Charming Mass Suicide and The Forest of Hanged Foxes. Many of Paasilinna's books have been turned into feature films and plays and adapted to comic books. His books have sold over 8 million copies worldwide, with publishers in several countries buying out more than 15 titles each. Paasilinna's works have been translated into over 40 languages.
Material
Finnish PDF
Rights sold
Czech (Hejkal / Audioteka)
Dutch (Wereldbibliotheek)*
German (Lübbe)*
Icelandic (Skrudda)
Italian (Iperborea)
Norwegian (Aschehoug)
Swedish (Brombergs)*
*rights reverted