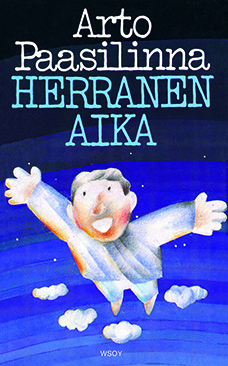 Publication date
1980
Publisher
WSOY
Format info
198 pages
Good Heavens!
Herranen aika
A laugh-out-loud novel about trying to make a difference that's set in the afterlife.
Good Heavens! tells the story of a prominent journalist's life, after his death. The world of the dead is geographically the same as the world of the living. The one difference is that is contains both living and dead people. And the dead can move at the speed of thought.
In the world of the dead, the recently deceased protagonist meets Pope Pius IX along with Finnish celebrities, like Väinö Linna, J. V. Snellman and archaeologist Sakari Pälsi. He also reads the thoughts of the living and comes to realise that the world is strange and unjust, and that something needs to be done. That's when he realises that he can enter the dreams of the living…
Arto Paasilinna (1942-2018) is the most renowned contemporary Finnish author, having published 35 novels and countless other works during his lifetime. In Finland, he has been one of the most popular authors since the 1970s. His most famous books include The Year of the Hare, The Howling Miller, A Charming Mass Suicide and The Forest of Hanged Foxes. Many of Paasilinna's books have been turned into feature films and plays and adapted to comic books. His books have sold over 8 million copies worldwide, with publishers in several countries buying out more than 15 titles each. Paasilinna's works have been translated into over 40 languages.
Material
Finnish PDF
Rights sold
Czech (Hejkal / Autiotekka)
Estonian (Tänapäev)*
German (Lübbe)
Korean (Sodam)*
Swedish (Brombergs)*
*rights reverted

Reviews
"Good novels often turn into facts in the reader's mind. In Finland this is most definitely the case with Väinö Linna's seminal works. For me, the same thing happened with Good Heavens!" – Antti Heikkinen, Helsingin Sanomat newspaper
"Good Heavens! is a book that will stay in your mind. And if I don't die immediately, I'll be sure to read it again." – Kirjavinkit blog