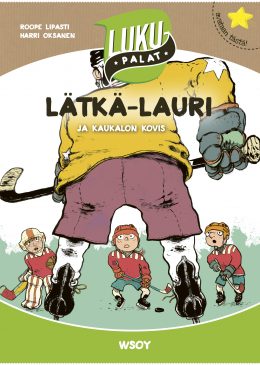 Illustrator(s)
Harri Oksanen
Publication date
2019
Publisher
WSOY
Format info
64 pp., Age 6+
Ice-Hockey Ace 4: The Bruiser in the Rink
Lätkä-Lauri ja kaukalon kovis
The Ice-Hockey Ace series follows goalie Ace and his friends when they join a hockey team and get to grips with the rules and the fun of the sport. An exciting, informative and fun read for all the Ice-Hockey Ace wannabees and their friends!
The city's most famous ice hockey club is looking for players. Ace and his friends plan to show off their skills, and hear that a NHL talent hunter might also be scouting at the venue! A strange man is sitting in the stands with sunglasses and a big beard. Is he the player agent? However, Ace must focus all his energy on the big bruiser in the rink who is clearly trying to evict all the smaller boys out with some unfair tricks.
Publication: Lätkä-Lauri ja kaukalon kovis. WSOY 2020. Age 6+, 64 pp. Material: Finnish Edition. All rights available.
Ice-Hockey Ace Series
Book 6: Ice-Hockey Ace: The Suspension, due in August 2021
Book 5: Ice-Hockey Ace: The Spirit of the Glove, WSOY 2020
Book 4: Ice-Hockey Ace: The Bruiser in the Rink, WSOY 2019
Book 3: Ice-Hockey Ace: Sick Tournament, WSOY 2019
Book 2: Ice-Hockey Ace: Miracle Save, WSOY 2019
Book 1: Ice-Hockey Ace: Miracle Glove, WSOY 2019