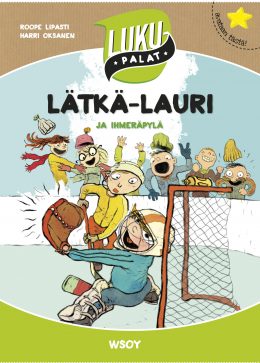 Illustrator(s)
Harri Oksanen
Publication date
Publisher
WSOY
Format info
64 pp., Age 6+
Ice-Hockey Ace 1: The Magic Glove
Lätkä-Lauri ja ihmeräpylä
Ice-Hockey Ace series follows goalie Ace and his friends when they join a hockey team and get to grips with the rules and the fun of the sport. An exciting, informative and fun read for all the Ice-Hockey Ace wannabees and their friends!
Book 1: The Magic Glove. Ace eats, sleeps and dreams ice-hockey. At home everything is in danger when he practises—even the guest room mattress which Ace cuts into a nice pair of goalie pads. When an ice-hockey team is put together locally, Ace is beyond excited. But when he finally makes it into a real ice rink, he is not impressing anyone as buck after buck slips past him into the goal. Feeling such a failure, Ace is ready to call it quits. But then he hears about his uncle's catcher glove with a magic touch and everything changes for the better—much better!
Publication: Lätkä-Lauri ja ihmeräpylä, WSOY 2019. Age 6+, 64 pp. Material: English translation set in lay-out, Finnish Edition. All rights available.
Ice-Hockey Ace Series
Book 6: Ice-Hockey Ace: The Suspension, due in August 2021
Book 5: Ice-Hockey Ace: The Spirit of the Glove, WSOY 2020
Book 4: Ice-Hockey Ace: The Bruiser in the Rink, WSOY 2019
Book 3: Ice-Hockey Ace: Sick Tournament, WSOY 2019
Book 2: Ice-Hockey Ace: Miracle Save, WSOY 2019
Book 1: Ice-Hockey Ace: Miracle Glove, WSOY 2019