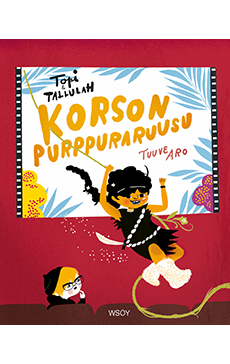 Illustrator(s)
Sanna Mander
Publication date
2011
Publisher
WSOY
Format info
112 pages Size: 159 mm x 197 mm
Jungle Girl and the City
Topi ja Tallulah: Korson purppuraruusu
Bespectacled Toby would rather see movies than the grey landscapes of his suburban neighbourhood. But one evening, Toby gets a real surprise: the resourceful jungle Girl Tallulah leaps from the silver screen right into the audience, live and in the flesh! Under Toby's guidance, Tallulah can experience the taste of popcorn and the sensation of snow on her sun-bronzed skin. And in turn, the jungle princess helps Toby to see the bleak suburb as an exotic habitat where adventures await just around the corner.
Reading materials available
Finnish edition
English edition
Translation chapter (Chapter number 3) in English
Translation chapter in (Chapters 1 and 2) in German available on request
Reading sample (Digipaper 3.0)
Praise for the work:
"The work calls to mind Astrid Lindgren's humanistic child-rearing philosophy of genuinely listening to children.".
Päivi Heikkilä-Halttunen, Helsingin Sanomat
"Tuuve Aro's first children's novel radiates energy and joy. It's a compact, cheerful and also visually fulfilling story about a bullied film-buff and a bold jungle princess." – Helsingin Sanomat newspaper
Tuuve Aro (s. 1973) is an author and movie critic whose Jungle adventure was sparked by Woody Allen's film The Purple Rose of Cairo. The book's relentlessly radiant orange-tone illustrations are by prize-winning graphic designer and illustrator Sanna Mander. Works by Tuuve Aro have been previously published in Germany, Sweden and India.