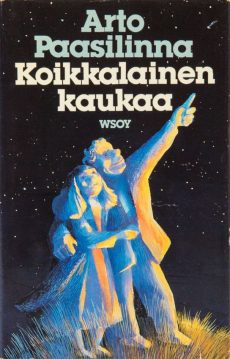 Publication date
1988
Publisher
WSOY
Format info
264 pages
Koikkalainen from Far Away
Koikkalainen kaukaa
A surreal and unpredictable eco-novel about a space ship that no one notices because everyone's too busy watching television.
A space ship lands in Salla Naruska's garden. The local dogs are all barking, but somehow eco-farmer Taisto Hallikainen is the only person who sees it land, because everyone else is too busy watching TV.
Upon further investigation into the contents of the space ship, Hallikainen encounters a lonely human-like creature. He befriends the creature and names it Kokkilainen. The creature tells Hallikainen that he's been sent to earth to collect commodities, animals and plants in order to take them back to his home planet. Hallikainen agrees to help and takes Kokkilainen to Helsinki.
Will the duo find what they're looking for?
Arto Paasilinna (1942-2018) is the most renowned contemporary Finnish author, having published 35 novels and countless other works during his lifetime. In Finland, he has been one of the most popular authors since the 1970s. His most famous books include The Year of the Hare, The Howling Miller, A Charming Mass Suicide and The Forest of Hanged Foxes. Many of Paasilinna's books have been turned into feature films and plays and adapted to comic books. His books have sold over 8 million copies worldwide, with publishers in several countries buying out more than 15 titles each. Paasilinna's works have been translated into over 40 languages.