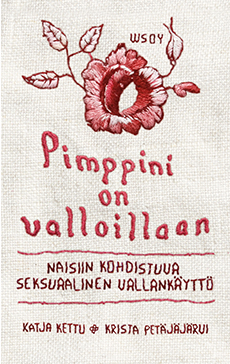 Publication date
2012
Publisher
WSOY
Format info
244 pages
My Pussy Galore
Pimppini on valloillaan
  Where power and sex meet
My Pussy Galore is an anthology comprising of six specialist essays by Finnish researchers (Social Sciences, Criminal Law, Literature, Sociology, Psychology) together with short stories by prominent female authors, all on sexual power.
Authors: Riikka Ala-Harja | Tuuve Aro | Anja Erämaja | Laura Gustafsson | Pirjo Hassinen | Maria Hyökyvaara | Katja Kettu | Taina Latvala | Rakel Liekki | Rosa Liksom | Laura Lindstedt | Mira Nurkka | Leena Parkkinen | Krista Petäjäjärvi | Riikka Pulkkinen | Anu Silfverberg | Helena Sinervo | Johanna Sinisalo | Anja Snellman | Annastiina Storm | Miina Supinen | Essi Tammimaa | Miia Tervo | Lotta Tuohino | Sinikka Vuola | Katariina Vuorinen.
Essays: Sanna Aaltonen, Special Researcher, Doctor of Social Sciences | Maaret Kallio, Sexual Therapist (NACS) | Sanna Karkulehto, Professor of Literature, Ph.D|Sari Näre, Docent of Sociology, Doctor of Social Sciences | Pia Puu Oksanen, Specialist on Sexual Discrimination, Amnesty International | Susanna Ruuhilahti, Sexual Health Promoter (NACS) | Terttu Utriainen, Professor of Criminal Law, Doctor of Laws.