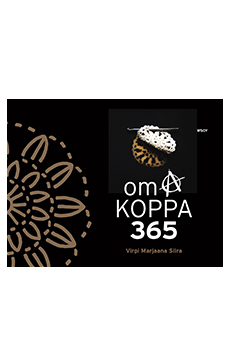 Publication date
August 2016
Publisher
WSOY
Format info
207 pages
My Space: Round and Round 365
OmA KOPPA: 365
The third book by the queen of crochet introduces mandala shapes and gives you the tools to create your own designs.
You can achieve wonders in no time. First you create one mandala and then, bit by bit, build up bigger pieces which you can continue 365 days a year. There's a use for every little round piece in the projects here – even the ones that didn't turn out quite right.
In her no-nonsense style, Virpi Siira guides crocheters in plain language and shows how flexible the mandala shape is. This book also includes colour illustrations of crocheted pieces, which make it super-easy to design colour palettes.
Virpi Marjaana Siira's My Space blog has become incredibly popular with 5 million readers worldwide, check it out: OmA KOPPA
Trailer: My Space: Round and Round 365
Publishing rights to Siira's previous My Space books have been sold to Estonia, Germany and South Korea.
Reading materials
Finnish edition