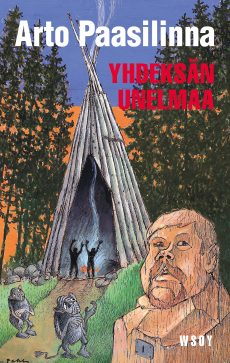 Publication date
2002
Publisher
WSOY
Format info
258 pages
Nine Dreams
Yhdeksän unelmaa
A razor-sharp work of autofiction from Finland's much-loved comic novelist Arto Paasilinna.
A sixty-year-old Arto Paasilinna writes about nine buildings he has constructed, using them as a vehicle to talk about his life and dreams for the future.
Paasilinna was 10-years-old when he took on his first construction project. His brother, Erno, decided to build a cabin in the woods and took Paasilinna along as as assistant. Throughout the course of Nine Dreams, Paasilinna reveals that he has built 53 different buildings: huts; cottages; farmhouses; sheds; saunas; cellars; a tower; and a shelter.
Talking the reader through his various building projects, Paasilinna reveals where we wrote each of his most popular novels.
Arto Paasilinna (1942-2018) is the most renowned contemporary Finnish author, having published 35 novels and countless other works during his lifetime. In Finland, he has been one of the most popular authors since the 1970s. His most famous bosoks include The Year of the Hare, The Howling Miller, A Charming Mass Suicide and The Forest of Hanged Foxes. Many of Paasilinna's books have been turned into feature films and plays and adapted to comic books. His books have sold over 8 million copies worldwide, with publishers in several countries buying out more than 15 titles each. Paasilinna's works have been translated into over 40 languages.
Material
Finnish PDF
Rights sold
Swedish (Brombergs), rights reverted