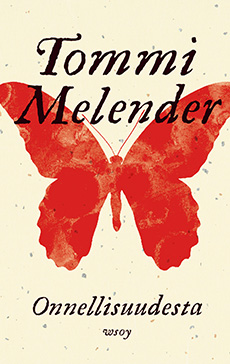 Publication date
Publisher
WSOY
Format info
183 pages
On Happiness
Onnellisuudesta
Happiness in all of its forms, from poetry to the FIFA World Cup
We live in a dictatorship of happiness. Happiness has become an imperative, and an entire branch of reality has been built up around it: the concept has been co-opted by bourgeois, right-wing ideologies. In this new collection of essays Tommi Melender disassociates himself from this development, but he still wants to be happy. Who doesn't? Melender dives into the cultural history of happiness, from ancient Greece to Montaigne, and resurfaces in present-day, recession-pummelled Finland.
What impact does our manic relationship to money and danger have on our prospects for happiness? Does happiness exist in physical health and a stable gender identity? Flaubert despised happiness, while Camus felt that seeking it was our responsibility as humans – who was more right or less wrong? Are there situations in which we should resist happiness?
Melender writes about all this wisely, personally, even confessionally. If the Socratic claim that the unexamined life is not worth living holds true, this book is sure to bring a bit of happiness to your life.