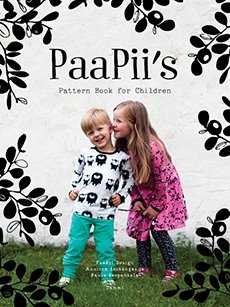 Publication date
February 2017
Publisher
Tammi
Format info
144 pages
PaaPii's Pattern Book for Children
PaaPiin kaavakirja lapsille
Sew your own children's clothes with PaaPii's patterns!
PaaPii's playful, colourful fabrics have captivated Finland over the past few years, and have also begun to take over the world! Now, PaaPii is releasing nine versatile patterns to delight sewing enthusiasts everywhere!
PaaPii Design
PaaPii Design, founded by Anniina Isokangas, is a company that designs jersey fabrics, among other products. It is known for its whimsical patterns and imaginative characters. Paula Isopahkala is the designer of PaaPii's clothing line.
Reading materials
English edition
Finnish edition