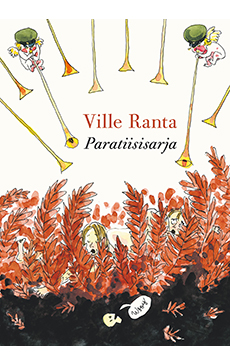 Publication date
2010
Publisher
WSOY
Format info
72 pages, size 174 x 247 mm
Paradise Suite
Paratiisisarja
  God's bad day
The graphic novel Paradise Suite retells the biblical Genesis story. Adam and Eve have difficulty comprehending the Garden of Paradise's narcissistic rules. A fierce sexual desire awakens between them at the same time God grows possessive in his love. God ends up having a bad day and destroying the garden. The difference between love and possession remains ambiguous  – to God as well.
Eve refuses to repent eating the apple, while Adam regrets her move and fears God's wrath. In Paradise Suite Adam and Eve are thrown into baffling situations in which they find it impossible to live up to God's expectations.
Paradise Suite describes the complex relationship between man, woman and God in a new thought provoking take on the origin of humans. It is Ranta's seventh graphic novel.
Rights sold
French (Rackham)
German (Reprodukt)
Swedish (Optimal)
See presentation from the German publisher
Reading materials
Finnish edition
French edition
German edition
Praise for the work
"Ranta illustrates the joys of love, openly and with an artistic flair (…) Not all of the many insights and nuances of the novel are apparent at first read – a very good sign."– Kirkko & kaupunki newspaper
"Ville Ranta's work is beautiful to look at and does much to further understanding." – Helsingin Sanomat newspaper
"Paradise Suite is (…) a brave publication and rare subject choice in the Finnish graphic novel community. Its release also makes a strong statement about tolerance and freedom of expression." – Portti magazine