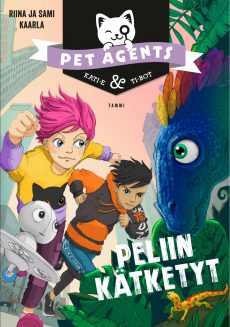 Publication date
November 2020
Publisher
Tammi
Format info
Pet Agents 4: Lost in the Game
Peliin kätketyt
The new series for animal lovers is growing!

Kati-e receives a request from a boy who has lost his… dinosaur! Excuse me?
Kati-e soon realises he's talking about he's talking about the virtual world and the dinosaur he's lost from the dinosaur park but it does not make the boy's anguish any lesser.
Kati-e gladly accepts the challenge and the Pet Agents go off into the virtual world to find out who is playing dirty.
Riina and Sami Kaarla write and illustrate the Pet Agents series. As well as their four sons, their family includes two dogs and lots of cats. They have no shortage of pet adventures of their own!
Schedule
Book 1: New Pets & New Friends!, 2019
Book 2: To Track a Thief, 2019
Book 3: Charging Ahead, July 2020
Book 4: Lost in the Game, November 2020
Format
Hardcover
Colour illustrated
Age group: 5+
Series rights sold
Czech (Grada)
Estonian (Rahva Raamat)
Polish (Media Rodzina)
Russian (Eksmo)
Slovakian (IKAR)
Ukrainian (Ridna Mova)