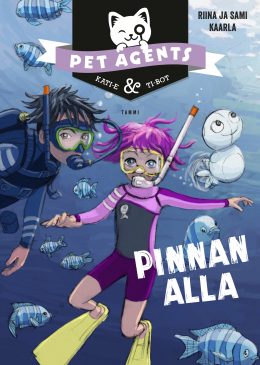 Publication date
November 2021
Publisher
Tammi
Format info
Pet Agents 5: In Deep Water
Pinnan alla
Join Kati-e and Ti-Bot in exporing the underwater world!
In the fifth part of the  Pet Agents series entitled In Deep Water, the help of Kati-e and Ti-bot is needed on a research vessel! The Pet agents dive beneath the surface of the sea together with Tim to solve their new animal-related task. Kati-e has upgraded the Ti-bot to be waterproof, and the underwater hep from a robot companion proves to be of invaluable help!
Riina and Sami Kaarla write and illustrate the Pet Agents series. As well as their four sons, their family includes two dogs and lots of cats. They have no shortage of pet adventures of their own!
Schedule
Book 1: New Pets & New Friends!, 2019
Book 2: To Track a Thief, 2019
Book 3: Charging Ahead, July 2020
Book 4: Lost in the Game, November 2020
Book 5: In Deep Water, due August 2021
Book 6: Snowed in! due November 2021
Format
Hardcover
Colour illustrated
Age group: 5+
Series rights sold
Czech (Grada)
Estonian (Rahva Raamat)
Polish (Media Rodzina)
Russian (Eksmo)
Slovakian (IKAR)
Ukrainian (Ridna Mova)