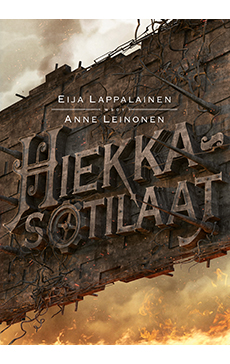 Publication date
2012
Publisher
WSOY
Format info
405 pages, size 148 x 210 mm
Sand Soldiers
Hiekkasotilaat
The stand-alone sequel to the first book in the acclaimed dystopian series! Reaper has taken Sarimi's place as the leader of the rebels, and Mist wants to discover the source of his powers.
"So many people talked about the Heavenly Apparatus, convinced that a machine for resurrecting people existed. What if it did? Did it change anything?"
The year 2308 is coming to an end. The strife between the Sky and the Forest has intensified into open warfare, and the Sky is recruiting troops from the Ruins. Sarimi and Huria's fates intertwine when both of them end up cogs in the gears of war. The final shreds of humanity are falling deeper and deeper into internecine aggression and scheming. Nor does the war appear to have any winners – only losers.
Mist, who can communicate with machines, travels to the distant east in search of his roots. He wants to find not only the city of Stars but also the origins of Rego the Traveler's stories and his own powers. Where did the unique skills of a handful of people originate? And what does the prophetic cube have to do with the events that are shaking Eurania to the core?
Eija Lappalainen's and Anne Leinonen's Sand Soldiers is the ambitious continuation to the Frost Children dystopia, which was a Finlandia Junior prize nominee in 2011 and a Tähtivaeltaja Award nominee in 2012.
"An ecstasy of imagination and militaristic events carry this this new novel along from beginning to end. (…) The sci-fi narration, which is directed at a more adult audience, has style." Jari O. Hiltunen, Satakunnan kansa
"The strength of Sand Soldiers and the series as a whole seems to lie in its shifting narrators. In particular, the ultimate climax of this story superbly depicts how events can be told in so many different ways, depending on the narrator and viewer." Mira Strengell, Vaskivuori Secondary School, Lukufiilis