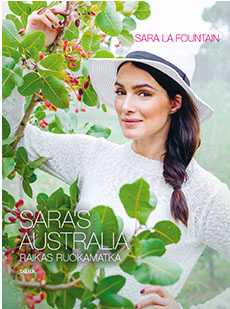 Publication date
September 2016
Publisher
Tammi
Format info
160 pages
Sara's Australia
Sara's Australia
Finnish TV chef Sara La Fountain is taking over Australia!
Australia is the hottest name in new food trends right now ­­­– and not just because of the climate. With that in mind, the celebrity super chef Sara La Fountain is putting her own twist on Australian cuisine. The result is guaranteed to be fresh, original and healthy. The recipes are designed so that the ingredients are available even if you don't live down under.
Sara's food programme Sara's Australia Unveiled will air in autumn 2016 via the FOX channels throughout the world: "Sara is wild about food and as she explores new previously undiscovered destinations, she will gather local produce masterfully blending ingredients and influences in unexpected ways, combining stylish precision with passionate creativity. The meals she prepares on camera will be seasonal, simple and beautifully presented." – Paul Deeming, Producer, Sara's Australia Unveiled

Sara's previous books, including Passion for Food and Healthy Kitchen, have been reader favourites from one year to the next, and Sara's programmes have aired and continue to air in over 140 different countries.