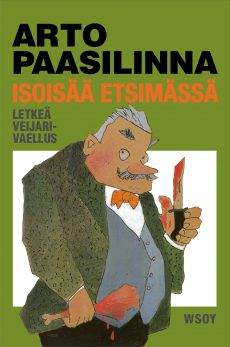 Publication date
1977
Publisher
WSOY
Format info
180 pages
Searching for Grandfather
Isoisää etsimässä
A touching tale of freedom that's full of sex, alcohol, and plenty of misunderstandings.
August Väisänen is on a mission to find his grandfather, leather manufacteurer Verneri, who has run away from his unbearable wife. The problem is, Verneri doesn't want to be found.
It's no surprise that when Väisänen finds his grandfather, it's not as simple as telling him to come back home. The two men embark upon a trip across Europe, on which they experience freedom for the first time.
Arto Paasilinna (1942-2018) is the most renowned contemporary Finnish author, having published 35 novels and countless other works during his lifetime. In Finland, he has been one of the most popular authors since the 1970s. His most famous books include The Year of the Hare, The Howling Miller, A Charming Mass Suicide and The Forest of Hanged Foxes. Many of Paasilinna's books have been turned into feature films and plays and adapted to comic books. His books have sold over 8 million copies worldwide, with publishers in several countries buying out more than 15 titles each. Paasilinna's works have been translated into over 40 languages.
Rights sold
Latvian (Daugava), rights reverted
Norwegian (Aschehoug)
Slovenian (Mladinska Knjiga)
Swedish (Brombergs)