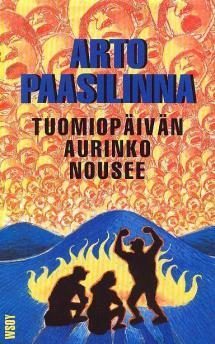 Publication date
1997
Publisher
WSOY
Format info
245 pages
Sunrise on Judgement Day
Tuomiopäivän aurinko nousee
A farcical, laugh-out-loud tale of a Finnish man who seizes his opportunity to save the day and become a hero.
Former flight attendant Hermanni Heiskari is ice-fishing on Lapland's Lake Inari in June. He's unemployed, he's not catching any fish, and there's a snow storm on the way. But all hope is not lost.
In the twilight hour, Heiskari spots a hot air balloon with a beautiful woman inside it. She's screaming for help! This is Heiskari's moment. He saves the woman and instantly becomes a hero. Leena Lundmark, the woman from the hot air balloon, will never forget what Heiskari did for her.
Arto Paasilinna (1942-2018) is the most renowned contemporary Finnish author, having published 35 novels and countless other works during his lifetime. In Finland, he has been one of the most popular authors since the 1970s. His most famous books include The Year of the Hare, The Howling Miller, A Charming Mass Suicide and The Forest of Hanged Foxes. Many of Paasilinna's books have been turned into feature films and plays and adapted to comic books. His books have sold over 8 million copies worldwide, with publishers in several countries buying out more than 15 titles each. Paasilinna's works have been translated into over 40 languages.
Material
Finnish PDF
Rights sold
German (Lübbe)*
Romanian, under offer
Swedish (Brombergs)*
*rights reverted