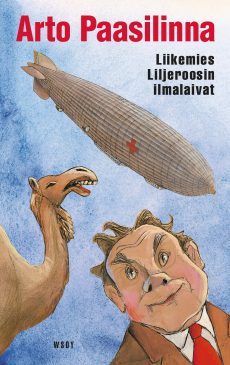 Publication date
2003
Publisher
WSOY
Format info
286 pages
The Airships of Mr Liljeroos
Liikemies Liljeroosin ilmalaivat
An audacious novel and a thrilling adventure about coming together in the face of a natural disaster.
Businessman Lars Liljeroos has built an airship to promote his brewery. When Hemmi Elstelä catches wind of this new invention, he decides to organise his own airship construction project. His airship is called Muhos Mimmi, and it's made of materials from all over Europe.
Meanwhile, Finnish heavy metal band Black Shotton board a third airship, embarking upon a world tour that takes them all the way to Tibet! The international media are obsessed: they're following the airship's every move. But that's not all! There's also Turkish pilot Skutari Örvesti; the artistic Roope Ryynänen; Tshen Mikila, a defective merchant from North Korea and… could that be a camel in the sky?
The Airships of Mr Liljeroos is as fun as it is serious: ultimately the international airship passengers must come together to provide humanitarian aid in the face of a dangerous earthquake.
Arto Paasilinna (1942-2018) is the most renowned contemporary Finnish author, having published 35 novels and countless other works during his lifetime. In Finland, he has been one of the most popular authors since the 1970s. His most famous books include The Year of the Hare, The Howling Miller, A Charming Mass Suicide and The Forest of Hanged Foxes. Many of Paasilinna's books have been turned into feature films and plays and adapted to comic books. His books have sold over 8 million copies worldwide, with publishers in several countries buying out more than 15 titles each. Paasilinna's works have been translated into over 40 languages.
Material
Finnish PDF
Rights sold
Russian (Olga Morozovoj)*
Swedish (Brombergs)*
*rights reverted
Reviews
"Paasilinna's mythical journey ends with a rescue mission. This is not just a humorous novel. Rather, its moral story elevates it to an especially humane level whereby people from a diverse range of nationalities must work together to help each other out. In addition to all of this, this is a funny and slick book; it is by Paasilinna, after all." – Turun Sanomat newspaper