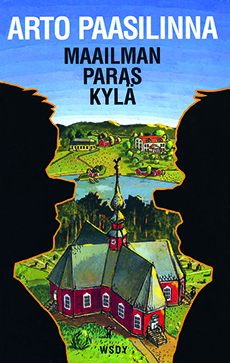 Publication date
1992
Publisher
WSOY
Format info
270 pages
The Best Village in the World
Maailman paras kylä
A lively tale about a self-sustaining community that's founded by the son of a dying arsonist.
Former arsonist Asser Toropainen doesn't regret burning down all of those churches. And yet, on his deathbed, he seems to have softened. The old man invites his grandson Eemeli round, and he gives Eemeli a mission. First Eemeli must establish a Dying Church Foundation and then he must build a church to replace those that his grandfather burnt down. Perhaps Asser did have a couple of regrets after all?
Inspired by an old wooden church, Eemeli builds a handsome new church in Sotkamo. Upon completion it attracts a diverse crowd, and they soon form a lively, self-sustaining community. One thing's for sure: life in the best village in the world is far better than wallowing in the recession outside.
Arto Paasilinna (1942-2018) is the most renowned contemporary Finnish author, having published 35 novels and countless other works during his lifetime. In Finland, he has been one of the most popular authors since the 1970s. His most famous books include The Year of the Hare, The Howling Miller, A Charming Mass Suicide and The Forest of Hanged Foxes. Many of Paasilinna's books have been turned into feature films and plays and adapted to comic books. His books have sold over 8 million copies worldwide, with publishers in several countries buying out more than 15 titles each. Paasilinna's works have been translated into over 40 languages.
Material
Finnish PDF
Rights sold
Estonian (Varrak)*
French (Denoël)*
German (Lübbe)
Icelandic (Skrudda)*
Italian (Iperborea)
Norwegian (Aschehoug)
Slovenian (Mladinska Knjiga)
Swedish (Brombergs)*
*rights reverted
Reviews
"Paasilinna is a kind of Finish Vonnegut, an unbridled fantasyist. The Best Village in the World is simultaneously a dismal anti-utopia and a joyful utopia." – Aamulehti newspaper 
"The best thing about Paasilinna is his madness. He creates astonishing situations and gives them believability." – Helsingin Sanomat newspaper