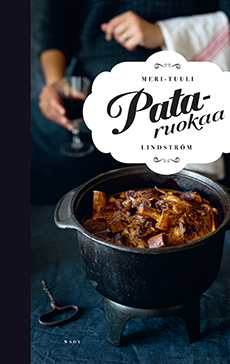 Illustrator(s)
Kreetta Järvenpää
Publication date
September 2016
Publisher
WSOY
Format info
192 pages
A Book of Stews
Pataruokaa
In A Book of Stews Meri-Tuuli Lindström revives a forgotten culinary tradition and encourages people to enjoy slow but easy cooking. Stewing cheaper cuts of meat and winter produce in a pot in the oven will yield succulent foods that allow for minimal time in the kitchen – perfect for those lazy weekends spent playing a game of cards with friends!
Mexican Birria, Karelian stew and ham hocks with beans; the recipes range from Finnish classics and European stews from Meri-Tuuli's childhood years spent living abroad, to the more modern and playful flavours from her travels around the world.
A Book of Stews also instructs on how to choose the right collagen rich cuts of meat to achieve that thick, meaty texture and how to pack your stew full of flavours by using different spices and home-made stock.
Give into easier, slower cooking and make the most of the winter months.
Reading material
Finnish edition
English sample
Praise for the work
"In the new A Book of Stews, the sweet wait is rewarded by exquisite dishes". – Helsingin Sanomat