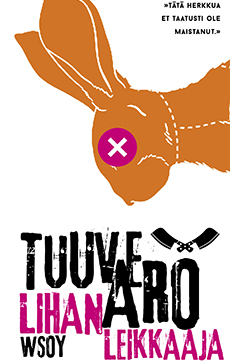 Publication date
2017
Publisher
WSOY
Format info
153 pages
The Butcher and Other Stories
Lihanleikkaaja
"Was he really the only one who felt something was badly out of whack?"
Who is the Butcher? An uninvited guest in your garden; the embodiment of a sudden and unforeseen turn in life.
In the stories contained in Tuuve Aro's ninth novel, a truck comes barreling around a blind corner and the ground slips away beneath your running feet. A gay karaoke bar, a maternity hospital ward: both can be the backdrop to unfolding, startling events. Whether the spotlight is on a bullied child or a pensioner pilfering from a department store, a razor-sharp imagination is a more effective weapon than an axe.
Tuuve Aro's The Butcher is a rich goulash of short stories. It takes an eviscerating view of modern life, exposing a cross-section of its tragi-comic, disquieting, and yet sometimes beautiful moments.
Material
Finnish PDF
English sample translation (here)