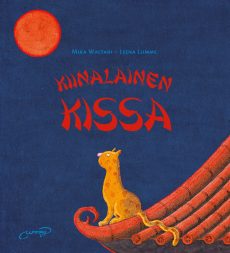 Illustrator(s)
Leena Lumme
Publication date
1932
Publisher
WSOY
Format info
389 pages
The Chinese Cat and Other Stories
Kiinalainen kissa ja muita satuja
Thirty-three enchanting fairytales by the legendary Mika Waltari.
For the first time ever, 33 of Mika Waltari's most charming fairytales have been published in a collection, The Chinese Cat and Other Stories. 
Although the stories themselevs have been written for young readers, their topics deal with issues of an adult nature and are sure to be appreciated by children and adults alike.
While some of the collection's stories are pure fantasy, others tell stories of animals, and then there are those that are doused in irony. The Chinese Cat and Other Stories is a classic collection that Waltari fans will return to time and time again.
Mika Waltari (1908-1979) is the most popular 20th century Finnish writer who is best known for his magnus opus The Egyptian. Over a career that spanned five decades, Waltari published well over 100 works, of which 200 translations have been made. His works include at least 30 novels, 20 plays and 15 novellas, as well as short stories, poems, screenplays and essays. In 1957 he was appointed to the Academy of Finland, having previously won the state literature award five times. Waltari's works have been translated into over 40 languages.
Rights sold
Czech (Euromedia)*
French (Nathan)*
Hungarian (Aqua)
Romanian (Albion)*
Polish (Bona)*
Slovakian (Ikar)*
*rights reverted
Reviews
"It is worth returning to these fairy tales and illustrations time and time again."— Lukijatar blog