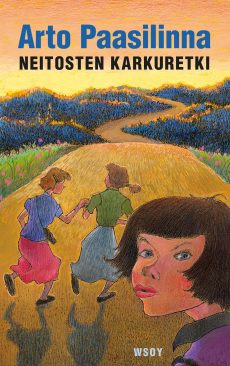 Publication date
2008
Publisher
WSOY
Format info
243 pages
The Flight of the Maidens
Neitosten karkuretki
A poignant and touching summer tale about three wild orphans who embark upon the trip of a lifetime.
Set in 1965, The Flight of the Maidens follows the story of Stina, a girl who has had a tough childhood and lives in the dreadful Kaksisaari orphanage. Along with her friends Roosa and Meer, Stina decides to escape from the orphanage. The trio hope to make it to Stina's father's cottage in time for Midsummer.
The Flight of the Maidens is a story that captures the wild spirit of three young girls as they embark upon the trip of a lifetime. At points they make childish decisions and show their age, but the girls' resourcefulness shines through as they're chased through Uusimaa by conscripts and policemen.
At its heart, The Flight of the Maidens is a story about a group of young girls whose fate has been predetermined by a group of men. It's a poignant as it is touching.
Arto Paasilinna (1942-2018) is the most renowned contemporary Finnish author, having published 35 novels and countless other works during his lifetime. In Finland, he has been one of the most popular authors since the 1970s. His most famous books include The Year of the Hare, The Howling Miller, A Charming Mass Suicide and The Forest of Hanged Foxes. Many of Paasilinna's books have been turned into feature films and plays and adapted to comic books. His books have sold over 8 million copies worldwide, with publishers in several countries buying out more than 15 titles each. Paasilinna's works have been translated into over 40 languages.
Rights sold
Sweden (Brombergs), rights reverted
Reviews
"The Flight of the Maidens shows off Paasilinna's playful humour at its best. Paasilinna is especially adept at striking the balance between crude and jovial humour… in this book Paasilinna weaves loose jokes into a coherent story. The fact that he manages to do this so well is what makes Arto Paasilinna Finland's official post-Veikko Huovinen humourist." – Savon Sanomat newspaper