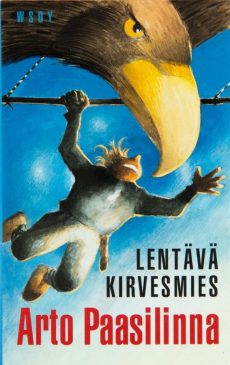 Publication date
1996
Publisher
WSOY
Format info
308 pages
The Flying Carpenter
Lentävä kirvesmies
Absurdist humour, Bronze Age mythology, and magical realism come together in this laugh-a-minute story of a man and his nemesis: a giant, black eagle.
Set in 100BC, The Flying Carpenter explores what life could have been like during Finland's Bronze Age.
When Ronkoteos finds himself stranded in the middle of Lake Pielinen, he couldn't have predicted that giant, black eagle would be the one to pull him out of the water. But the recently rescued Ronkoteos develops a cunning plan of his own: he steals eggs from the eagle and makes a fortune selling them!
This exploration of the myths and fables of the Bronze Age, which combines extensive archaeological research with Paasilinna's absurdist humour, is a delightful read. With footnotes pertaining to deeper archaeological information, it's a book you'll learn from as well as enjoy.
Arto Paasilinna (1942-2018) is the most renowned contemporary Finnish author, having published 35 novels and countless other works during his lifetime. In Finland, he has been one of the most popular authors since the 1970s. His most famous books include The Year of the Hare, The Howling Miller, A Charming Mass Suicide and The Forest of Hanged Foxes. Many of Paasilinna's books have been turned into feature films and plays and adapted to comic books. His books have sold over 8 million copies worldwide, with publishers in several countries buying out more than 15 titles each. Paasilinna's works have been translated into over 40 languages.