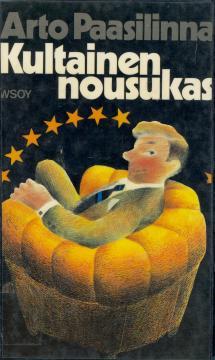 Publication date
1982
Publisher
WSOY
Format info
198 pages
The Golden Climber
Kultainen nousukas
A biting post-war satire about a boy with big ambitions who is determined to create his own luck.
A poor boy is born in the remote village of Salla. To make matters worse, he's immediately rejected by his mother. But this boy isn't prepared to accept his fate: he's got ambitions and a real thirst for life. Askeli soon learns that if he's going to be happy, he's going to have to create his own luck.
Askeli's first taste of business comes when he's just 15-years old and he joins forces with a salmon seller in Oulu's market square. It's not long before the boy is running his own fishing business in Norway and founding a photography shop.
The entrepreneurial boy continues to establish valuable contacts and he expands his empire until, one day, fate intervenes. He needs to reassess everything.
Arto Paasilinna (1942-2018) is the most renowned contemporary Finnish author, having published 35 novels and countless other works during his lifetime. In Finland, he has been one of the most popular authors since the 1970s. His most famous books include The Year of the Hare, The Howling Miller, A Charming Mass Suicide and The Forest of Hanged Foxes. Many of Paasilinna's books have been turned into feature films and plays and adapted to comic books. His books have sold over 8 million copies worldwide, with publishers in several countries buying out more than 15 titles each. Paasilinna's works have been translated into over 40 languages.
Material
Finnish PDF
Reviews
"All in all, a great book. As I was writing this blog post, I felt a smile creeping onto my face; that's how wonderful Askeli's antics were." – Sanojalauseita blog