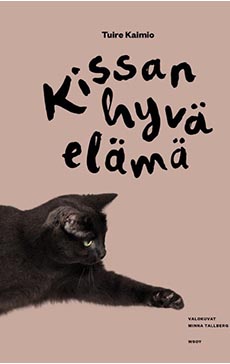 Illustrator(s)
Minna Tallgren
Publication date
2019
Publisher
WSOY
Format info
160 pages
A Cat's Good Life
Kissan hyvä elämä
See the world through the eyes of a cat!
Tuire Kaimio's newest work A Cat's Good Life tells about life through the eyes of a cat. Tuire Kaimio's robust knowledge of typical feline behaviour helps cat owners satisfy their pets' special needs and make their lives even better! A Cat's Good Life is an excellent illustration of how life looks through a cat's eyes. Did you know that cats have various areas of activity, distributed over different levels? For this reason, cats need to be able to move at ceiling level when indoors. Or that cats' social relationships in a group start from common smells? The book highlights the most important features of cat behaviour, cats' development and the effects of a cat's breed on behaviour, discusses the most common problems and offers solutions to them. The most important role, however, is played by the clever and agile cats themselves!
Tuire Kaimio is a renowned animal trainer and the most respected expert in animal behaviour in Finland. Her previous books on dogs How to Raise a Puppy and Dog Behaviour have become classics with close to 70.000 copies sold in Finland.
A Cat's Good Life will be published in early 2019.