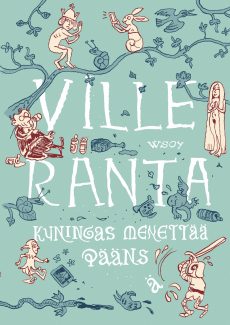 Publication date
September 2018
Publisher
WSOY
Format info
King Loses His Head
Kuningas menettää päänsä
The concept of being a man is torn to shreds in Ville Ranta's new, guillotine-sharp-witted graphic novel.
The King is losing faith in everything around him: the roof of his castle leaks, the court jester fails to amuse him, no one shows him any respect. Thankfully, the Vicar knows the cure for the King's existential depression; and so the unlikely duo embark on an adventure, one final time! The beer flows, dragons are slayed as women and castles are conquered. King Loses His Head is a wildly-imagined work of surreal wit, one that shimmers with pastel coloured illustrations and witnesses the severing of the head of the alpha male.
Full English (unedited) translation available.
'Ville Ranta is on a par with Monty Python, providing a fearlessly con-current – yet timeless – story that draws its inspiration from both the literary classics and plays. The story flows in the style of the classic co-medy: smart dialogue followed by the possible exit of a character via the poop-chute of a castle or being attacked by a snail… The King Loses His Head is connected to the long tradition of the Euro-pean comedy, which readers will easily recognise in the style and enjoy the twists and turns it provides. Such a reader will also know how to read between the strips.' — Aamulehti newspaper
Excerpt in Finnish
Praise for the Work
"Ville Ranta is on a par with Monty Python, providing a fearlessly concurrent – yet timeless – story that draws its inspiration from both the literary classics and plays. The story flows in the style of the classic comedy: smart dialogue followed by the possible exit of a character via the poop-chute of a castle or being attacked by a snail… The King Loses His Head is connected to the long tradition of the European comedy, which readers will easily recognise in the style and enjoy the twists and turns it provides. Such a reader will also know how to read between the strips." – Aamulehti
Rights sold
French (Çà et Là)