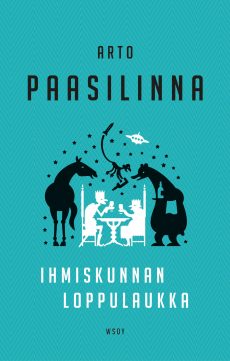 Publication date
2000
Publisher
WSOY
Format info
202 pages
The Last Lap of the Human Race
Ihmiskunnan loppulaukka
A riotous science fiction novel set in an imagined future in which mankind faces extinction.
It's the year 2005, five years in the future, and statistics show that mankind is not far from extinction. Birth-rates have fallen dangerously low: children simply aren't being born anymore.
Tarmo Saamakorpi, a former vet and legendary horse trainer, decides to take matters into his own hands. With Haaveri-Aaroni as his faithful steed, he gallops off to find women, only this time his motives are entirely selfless. The human race must be saved, and Saamakorpi's got steam in him yet!
Fast-forward to 2010, and a healthy boy called Toivo Armas is finally born. He's a global sensation! The boy grows up, surrounded by horses, with his father and midwife as parents. But what will the world look like when it runs out of people? Can the youngest man alive save the day? One thing's for sure: he's got his work cut out for him.
Arto Paasilinna (1942-2018) is the most renowned contemporary Finnish author, having published 35 novels and countless other works during his lifetime. In Finland, he has been one of the most popular authors since the 1970s. His most famous books include The Year of the Hare, The Howling Miller, A Charming Mass Suicide and The Forest of Hanged Foxes. Many of Paasilinna's books have been turned into feature films and plays and adapted to comic books. His books have sold over 8 million copies worldwide, with publishers in several countries buying out more than 15 titles each. Paasilinna's works have been translated into over 40 languages.
Material
Finnish PDF
Reviews
"Arto Paasilinna takes readers into the new millennium with this juicy fantasy. The end of mankind is drawing ever closer, but he takes us there with speed and style. It's very Paasilinna." – Rising Shadow blog