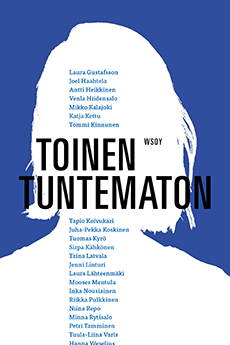 Edited by Johanna Catani and Lari Mäkelä
Publication date
October 2017
Publisher
WSOY
Format info
256 pages
The Other Unknown. Voices of Women in Wartime
Toinen tuntematon
Who are the women in Unknown Soldiers?
In this collection of fictional stories, some of Finland's best contemporary authors imagine the untold stories of the female characters from Unknown Soldiers, Väinö Linna's iconic wartime novel.
How did those on the home front survive WWII? What does the woman from the volunteer defence forces see in Lieutenant Lammio, and why does she give him the cold shoulder? How does Vuorela's household carry on when news of his death arrives? What does Sirkka, the recipient of Ensign Kariluoto's love letters, have to say? And how does Veerushka from Petroskoi really feel about the city's Finnish occupiers, like Hietanen, who brings bread to the children, or the giggling Vanhala and the records he plays?
What sort of person is Lyyti Rokka, and what sort of welcome does she give to her wounded husband, who shows up to "count the brats"? How is the war experienced by Rahikainen's 17-year-old child bride, whose "mother Rahikainen sold to a man from the veterinary company for two packs of cigarettes".
Whilst Väinö Linna's Unknown Soldiers is an iconic work about men's wartime ordeals and emotions, this anthology strives to explore the war experienced by women.
The Other Unknown includes contributions from over 20contemporary authors, including Katja Kettu, Tommi Kinnunen, Tuomas Kyrö, Sirpa Kähkönen, Riikka Pulkkinen, Minna Rytisalo, and Hanna Weselius.
Material
Finnish PDF