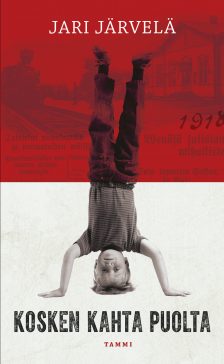 Publication date
August 2018
Publisher
Tammi
Format info
200 pp
The Rapids
Kosken kahta puolta
Two grannies – two truths of the civil war
Over two days in the summer of 1977, a seven-year-old boy pays visits to his two grannies. The grandmothers live in the same town, but on opposite sides of the rapids that flow through the town. But the widest gap between them is their memories of 1918. One's family was with the Reds during the civil war, the other with the Whites. But their children fell in love, just like Romeo and Juliet, and had a son.
At one granny's house, you have to fetch water from the well and firewood; at the other's house, there's a prizewinning garden, a crystal chandelier and a portrait of General Mannerheim on the wall.
So the boy lives his summer in two different realities, listening to his two grandmothers talk of their versions of a young Finland. With his youthful narration, he parses the older generation's experiences of the war to yield a new expression of the past that will ease the burden of memory on the next generation.
Awards & Nominations
Shortlisted for the Finlandia Prize for Fiction 2018
Praise for the Work
"A seven-year-old boy becomes an 'invisible boy' in the presence of his two grandmothers and other adults in order to listen to them talk about the civil war. The two grandmothers' families fought on opposing sides during the war. Discovering paper scrolls of poetry hidden inside the frame of a cot bed, he gains an imaginary friend, Vilho, who has been wounded in the war. As the boy puts his soul into the fates of his grandmothers and to that of Vilho, he eventually finds a verbal expression of the past and its events. Seeing the events of 1918 through the experiences of a child slows down the transference of the burden of the war through the generations." – Statement of the Finlandia Prize Jury