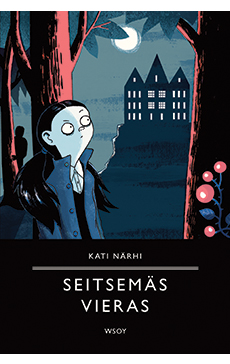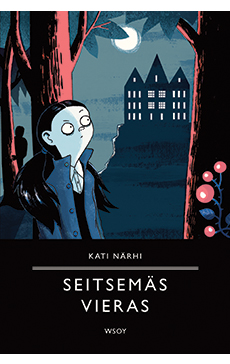 Publication date
2015
Publisher
WSOY
Format info
152 pages, size 177 mm x 248 mm
The Seventh Guest
Seitsemäs vieras
  The mystery that had Agnes baffled is finally solved!
The tremendous finale to Kati Närhi's popular trilogy of graphic novels, featuring orphan girl Agnes.
Agnes visits Major Orkolora's island with her aunt Sylvia. They are joined by a strange group of people who have all been invited to the mansion for different clandestine reasons. Agnes is ostensibly there on holiday, but soon becomes entangled in a web of mystery.
Agnes is in her element revealing the petty secrets of the adult cast. Ultimately, she also solves the biggest mystery of her life: her parents' fate.
Rights sold
Czech (Paseka)
Prizes and awards
2015 Graphic Novel Finlandia Prize
Reading materials
Finnish edition
Praise for the work
"The winner is Kati Närhi's The Seventh Guest, a graphic novel that services as the third and final part of a trilogy. This visually captivating work is expressive and carefully made, and the novel's limited colour palette creates and supports the atmosphere throughout. Närhi is very conscious of the graphic novel genre. She respects the comic tradition and succeeds beautifully in creating her own world within its framework. The book is a soothing read: you are tempted to linger on every page, but the enticing storyline pushes you on. Despite its comforting presence, the book draws the reader into its world, literally forcing the reader to turn the page. The main character is a young woman, a lovable and ambitious personality. Yet defining a target audience feels totally unnecessary. The classic features of this story will attract people from all walks of life – as all first-class works of art tend to do." – the Graphic Novel Finlandia Prize jury
"Närhi's congenial work is a kind of mash-up of the classic Agatha Christie murder mysteries and the innocent worlds found in children's books of old. The combo succeeds brilliantly and keeps the reader enthralled (…)" – Tähtivaeltaja
"Kati Närhi has a one-of-a-kind and guileful drawing style. Her use of colour in particular is carefully considered." – Savon Sanomat newspaper
"The previous books in Kati Närhi's trilogy were candidates for the Graphic Novel Finlandia Prize. I don't see any reason why The Seventh Guest wouldn't be as well." – Turun Sanomat newspaper