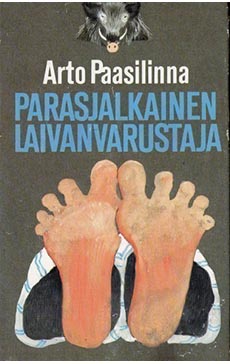 Publication date
1985
Publisher
WSOY
Format info
224 pages
The Surefooted Shipwright
Parasjalkainen laivanvarustaja
A surprising and jubilant tale with enough twists and turns to keep you guessing until the very end.
Aulis Rävänder is doing well: he's got a loving wife and children; a good job in the harbour; a nice place in Eira; and a gorgeous island villa. But all of that changes when Rävänder comes home one day and realises that a stranger has been in his house.
Rävänder retreats to his island to meditate and think about what he's found out. That's when he accidently dials the wrong number. One thing leads to another, and it's not long before Rävänder meets Irene Oinose, a brave businesswoman who understands Rävänder better than anyone ever has before.
Arto Paasilinna (1942-2018) is the most renowned contemporary Finnish author, having published 35 novels and countless other works during his lifetime. In Finland, he has been one of the most popular authors since the 1970s. His most famous books include The Year of the Hare, The Howling Miller, A Charming Mass Suicide and The Forest of Hanged Foxes. Many of Paasilinna's books have been turned into feature films and plays and adapted to comic books. His books have sold over 8 million copies worldwide, with publishers in several countries buying out more than 15 titles each. Paasilinna's works have been translated into over 40 languages.
Material
German translation
Rights sold
German (Lübbe)
Slovenian (Mladinska Knjiga)
Reviews
"Paasilinna is able to carry the plot in surprisingly jubilant directions and create an adventure whose twists and turns cannot be predicted." – Lukijatar blog