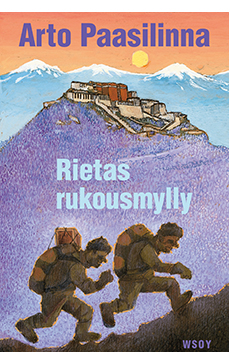 Publication date
2007
Publisher
WSOY
Format info
248 pages
The Wanton Prayer Wheel
Rietas rukousmylly
A rich tale of travel and trickery that pushes the boundaries of imagination and carries a strong political message.
A group of Finnish men, including a development manager and a product developer, travel across Lake Inari, the Tibetan mountains and India in an attempt to sell their newest hi-tech product: a prayer wheel made from an old-fashioned coffee grinder. A series of mishaps leads the group of friends to become the prophets of a brand new religion whereby the universe itself is their deity.
As the men spend time in the dark, their faith in the universe strengthens. Their prayer wheel is designed to take care of any religious affairs, and it appears to be working. On their journey, the men meet the fourteenth Dalai Lama; Hannele Pokka, the former governor of Lapland; and a Himalayan snowman.
Arto Paasilinna (1942-2018) is the most renowned contemporary Finnish author, having published 35 novels and countless other works during his lifetime. In Finland, he has been one of the most popular authors since the 1970s. His most famous books include The Year of the Hare, The Howling Miller, A Charming Mass Suicide and The Forest of Hanged Foxes. Many of Paasilinna's books have been turned into feature films and plays and adapted to comic books. His books have sold over 8 million copies worldwide, with publishers in several countries buying out more than 15 titles each. Paasilinna's works have been translated into over 40 languages.
Material
Finnish PDF
Rights sold
Czech (Hejkal)*
German (Lübbe)*
Swedish (Brombergs)
*rights reverted
Reviews
"The Wanton Prayer Wheel is an easy read… Paasilinna's humour shines through, and people need humour in this universe." – Helsingin Sanomat newspaper