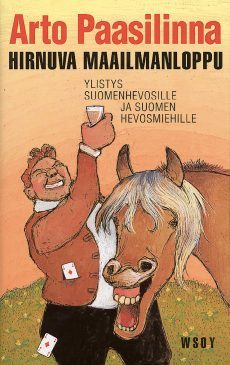 Publication date
1999
Publisher
WSOY
Format info
259 pages
The World Ends in a Neigh
Hirnuva maailmanloppu
A wild and rib-tickling story that combines Orwellian dystopia with talking horses and social satire.
The Words Ends in a Neigh tells the story of Huru-Aaroni, a Finnish horse who has learned to speak. The story kicks off when Huru-Aaroni's owner sells him to Ossi Huikkola, one of Finland's most well-known horse breeders. Enter local vet Tarmo Saamakorpi, who is in charge of training foals and is partial to a spot of drinking and gambling every now and again. With Saamakorpi's special skill being put to good use, it's not long before all the new foals learn how to speak!
In The World Ends in a Neigh Paasilinna explores life from the perspective of both horse and man with incredible depth.
Arto Paasilinna (1942-2018) is the most renowned contemporary Finnish author, having published 35 novels and countless other works during his lifetime. In Finland, he has been one of the most popular authors since the 1970s. His most famous books include The Year of the Hare, The Howling Miller, A Charming Mass Suicide and The Forest of Hanged Foxes. Many of Paasilinna's books have been turned into feature films and plays and adapted to comic books. His books have sold over 8 million copies worldwide, with publishers in several countries buying out more than 15 titles each. Paasilinna's works have been translated into over 40 languages.