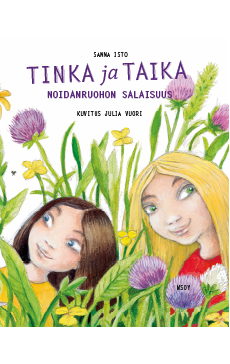 Illustrator(s)
Julia Vuori
Publication date
2013
Publisher
WSOY
Format info
181 pages, colour illustrations
Tinka and Taika: The Secret of the Witching Grass
Tinka ja Taika: Noidanruohon salaisuus (Kirja 2)
The second book in the Tinka and Taika series.
Young witches must practise, and practise, and… it's so much fun! When you start out you cannot possilbly be perfect and soon the sisters' soft toy horse Lilly is not exactly functioning how she used to. Adding to the mayhem, and unbeknownst to the girls, there is someone lurking nearby — someone who wants to get their hands on Grandma's trunk…
The witch sisters Tinka and Taika are heading for new adventures in their second book! Sanna Isto cleverly weaves together the day-to-day of little girls with a delightful magical world. The feel-good atmosphere, Julia Vuori's lovely illustrations and a perfect dash of magic — this combination ensured the first book of Tinka and Taika was awarded the children's literature Arvid Lydecken Prize.
Series
Tinka & Taika, 2011
Tinka & Taika: The Secret of the Witching Grass, 2013
Tinka and Taika: The Forbidden Forest, 2015